New
Logoshi.com - A Logo Maker. Make a logo for your business, website, app, school club, YouTube channel, band, t-shirt, side project, startup, and business cards.
Pixel Art Generator - Make hundreds of space invaders and other tiny pictograms.
Landscape Art Bot - Landscape paintings generated by software I wrote. Landscapes are posted to Twitter @LandscapeArtBot. Still very much a work in progress. Evolves weekly.
Recent
Critickle.com - Get critiqued. Submit your writing, art, music anonymously. Get critiques from experts in your field. This project is still in an early beta stage
Domains For Sale - I made a lot of money for more than 10 years with the Amazon Affiliate program until I was kicked out at the end of 2015 for "not providing enough value". These are domains I used for sites to sell Amazon products. Some of these domains are 10 years old and get a fair amount of search traffic.
Printable Calendars - Monthly calendars in a Swiss / International Typographic Style you can print and hang in your cubicle. Programmatically generated.
Drawmigo.com - Draw something. Save it to the site. Someone else adds to it. They save it to the site. A third person adds to it. They save it to the site. Etc. Created while I was evaluating in-browser sketch libraries for logoshi.com.
Old
WittyProfiles.com - My most successful side project, by far. Created in 2003, Witty Profiles peaked in 2011. It started as a database of witty quotes to be used in AOL Instant Messenger profiles. It grew into a social network with more than 50,000 daily active users and more than 1,000,000 daily page views, but ultimately faded as mobile phones, texting, facebook, and tumblr gained popularity and the need for "away messages" disappeared.
VisualPackingList.com - Make a packing list for your trip by looking at a visual, categorized list of items. Created to use Amazon affiliate links. This domain is for sale. 💰
YankeeSwapGifts.com - Find gift swap items by price. Very popular between Thanksgiving and Christmas. This successful site is what got me kicked out of the Amazon Affiliate program. This domain is for sale. 💰
TripOCD.com - Packing and travel tips for a handful of places I visited. Designed to look like a US National Parks site. Created to use Amazon affiliate links. This domain is for sale. 💰
ColorHunter.com - Get color palettes by image. Created in 2007, this was one of the first sites to do this. Uses the flickr API. Over 1.4 million color palettes. This is a spin-off site based on the degraeve.com color palette generator. Still gets about 70,000 visitors a month.
FreePDFCards.com - Generate and download business cards. This is a spin-off stand alone site of the degraeve.com business card maker. This and a handful of other similar domains were created in 2008 to test SEO optimized domain names. Still gets over 5,00 visitors a month.
WittyComics.com - Make a 3 panel comic. Created in 2005, this comic strip maker is still popular with schools and regularly gets thousands of visitors a week.
Giftputer.com - Find a gift based on the recipient's age, gender and personality type. Created in 2009 to use Amazon affiliate links. I was particularly proud of this one because as the users browse through gifts, data is collected and used to recommend gifts to subsequent users. I also thought the name was pretty good. This domain is for sale. 💰
Unfinished
Letterpress Invitation Generator - This was an experiment in programmatic typographic layout. I never intended to really make letterpress invitations, but thought people searching for those keywords would find this project interesting.
WPA Poster Generator - Generate posters in the style of the Work Projects Administration's See America First posters of the late 1930s and early 1940s. This project will eventually be resurrected because I've learned a lot of useful things about image processing since it was abandoned.
Dead
256pixels.com - Make a favicon online. Named for the 16x16 grid that favicons originally used. This site had daily contests to create a favicon for a given theme. I also purchased favicontest.com but never pointed it at this. Created as a spin-off of the favicon generator on degraeve.com.
Franksicons.com - a Buddy Icon Maker. Originally created back in 2002 as BuddyIconMaker.com, this site let users make icons to use as avatars for AOL Instant Messenger (AIM). This was also my first attempt at making money online. Users could buy a membership that gave them access to premium templates for $5. This site has been irrelevant since texting became a thing in 2005.
GeekChart.com - Embeddable charts to show where you share online. Created in 2009. This was an interesting exercise in learning how to read and maintain huge collections of RSS and Atom feeds from places like flickr, last.fm, del.icio.us, twitter, and youtube.
YumGifts.com - displays the top selling gourmet items on Amazon. Created while I was learning the Amazon API and to generate affiliate sales. A throw away project, really. Never made a penny. This domain is for sale. 💰
Bimtones.com - Compose polyphonic ringtones, generate a midi file and download it on your Nokia or equivalent dumbphone from 2005. Created in 2005 when polyphonic ringtones were all the rage. I learned WML for this project so the primitive phones could access the pages and download the midi files. People made some incredible ringtones.
OmniWishList.com - Create and share your wish lists. Created in 2006 to use Amazon affiliate links and Google adsense. This site was full of SEO spam and was pulled offline. This domain is for sale. 💰 ubiwish.com and ubiwishlist.com are also for sale. 💰
TinyAdvice.com - Displays a single proverb on the screen. Click for another. Back in 2005 there were a lot of these type of sites. This was originally a forum for getting and giving advice, but the liability of hosting that type of site lead me to quickly shut it down.
LegalTshirts.com - T-shirts for sale with designs I made back in 2003. Amazingly, I still make one or two sales a month. Fat Camp, Crap, and Event Staff are popular.
Work Log
Monogram Logos at Logoshi
Logoshi has been updated to include automatically generated "monogram" logos using initials from a company name. After looking through sketches made by users while making their own logos, it became obvious there is a stong desire for logos that feature their company's initials. In addition to creating logo marks that feature initials with digital graph paper, you can now create logo marks using shapes and fonts.
Oct 18 2016


Designers for Hire
A few years ago I created Logoshi.com as a way for people to make their own logos. More than 10,000 people a month make logos with Logoshi now. Sadly, a lot of them leave disappointed and without a logo. They need the help of a designer. I created Logoshi's Designers for Hire to bring together designers and clients looking for new logos. Pro designer listings get featured right in the Logoshi logo generator!
Sep 20 2016


Landscape Art Generated by a Computer
As a kid I enjoyed watching William Alexander and Bob Ross paint landscapes on the Joy of Painting. These days, I enjoy watching digital artists create environment concept art on YouTube. On Twitter, I follow a few art generating bots. I decided to take a couple of weekends and smash all these things together. I wrote a few scripts that generate landscapes that get posted to twitter. The types of landscapes are limited today, but will grow with time. Browse through the landscapes and follow @LandscapeArtBot on Twitter.
Aug 20 2015


International Typographic Style Printable Calendars
Download and print a modern calendar for your cubicle. They are availble in U.S. Letter and A4 paper sizes. Print a calendar.
Jul 2 2015


Logoshi - Sketch a Logo
Last year I needed a simple logo for a side project. I looked into hiring a graphic designer, but didn't have a few thousand bucks to drop on a logo. I tried making my own logo in Photoshop and wasted 2 days before giving up. I discovered a logo contest site where I wasted $295 on a mediocre logo that ultimately went unused. After unsuccessfully searching for a site where I could make a simple modern logo, I built one: Logoshi.com - sketch a logo.
Mar 4 2014


Witty Profiles Gets a Responsive Design
The new year brings a new responsive design for WittyProfiles.com. In 2012, I split Witty Profiles into separate desktop and mobile sites that shared the same base logic. While the new mobile user experience was great, maintaining templates for multiple versions of the site turned out to be more trouble than it was worth. With the explosion of different devices and viewport sizes in the last 12 months, I decided to rewrite the display logic for Witty Profiles using the responsive features of the Bootstrap front-end framework. Users on all devices now have the same feature set at the same time and a UX optimized for their device.
Jan 4 2013


Mobile Site for Witty Profiles
This morning I released a mobile version of Witty Profiles at m.wittyprofiles.com. I initially set out to use Luke Wroblewski's Mobile First philosophy, but soon realized a mobile interface was going to require separate, mobile-specific templates. I ended up with a single codebase that uses two sets of templates: mobile and desktop. Eventually, I'll use the new mobile templates as a foundation to create a true Mobile First design.
May 4 2012


New Servers for WittyProfiles.com
It's the time of year when school gets out in the U.S. and I've upgraded the servers for Witty Profiles just in time. According to Google Analytics, last month Witty Profiles attracted more than 700,000 unique visitors who generated over 17 million pageviews.
Jun 8 2011


FreePDFCards.com Supports ISO Latin-1 Character Set
FreePDFCards.com is a very easy way make your own business cards. Until recently, some extended characters were getting lost in one of the conversions when creating the PDF. I recently read about an under-documented feature in the Adobe postscript conversion utility and now FreePDFCards.com can produce business cards for our friends in Europe (and elsewhere) who have accents, tildes, umlauts and other diacritical marks in the ISO Latin-1 character set in their names and contact information. dásamlegt!
Aug 17 2010


Witty Profiles Optimization
Last week I released a complete rewrite of WittyProfiles.com. The goal of the rewrite was to reduce the database load and cache as many queries as possible. After about a week of monitoring, database load is way down and an average of 92% of MySQL queries are in memcached. The best part is that the users are happy with the increased performance. I guess it was worth taking the 6 months to transform 7 years of clunky PHP functions into modern object oriented code.
Apr 30 2010


Giftputer - Find the Perfect Gift
Back in August 2009 I created Giftputer.com. Giftputer uses crowdsourcing to find the perfect gifts given age, sex and personality. This project uses Amazon.com RSS Feeds, the python Universal Feed Parser, PHP and MySQL. Giftputer was designed to be a useful tool during the holiday shopping season and to bring in a few bucks in Amazon referrals.
Dec 4 2009


Geek Chart
A Geek Chart is a web badge that shows where you share stuff online. Each slice of the Geek Chart is a link to your profile on sites like Flickr, Twitter, Youtube and more. What does your Geek Chart look like?

This is a project I did to learn Python, brush up on ActionScript 3, experiment with ATOM and RSS feeds and play with memcached. The user and chart data is stored in MySQL tables. PHP is used for the front end. Surprisingly, there is no JavaScript in this project (yet). The idea was to use as many skills as possible to build something semi-useful that would impress future employers.
Apr 29 2009


Yum Gifts
YumGifts.com is a site that I built while experimenting with the Python Universal Feed Parser and Amazon.com feeds. It displays the top selling gourmet food items. The site updates hourly.
Apr 1 2009


Business Card Robot
Lose your job and need business cards? Let the Business Card Robot make business cards for you.
Feb 1 2009


Free PDF Cards
Easily create business cards with FreePDFCards.com. Enter your contact information and get a PDF of your business cards you can print on your home printer or at an office print supply store like Kinko's.
Jan 27 2009


Cube Status
CubeStatus.com is meaningless project that spits out recent Twitter Tweets (cringe) mentioning cubicles. What is special about CubeStatus.com is that the entire idea and development process lasted only 4 hours. I thought of the domain name, discovered (to my surprise) that it was available, purchased it, updated the name servers, set up hosting, learned the Twitter API and threw together a little page with jQuery. I'm bored.
Jan 16 2009


WittyProfiles.com Redesign
Earlier this year, I rewrote the inner workings of WittyProfiles.com, a website I created way back in 2003. I optimized a lot of the backend code and added a number of new social network features. The new features led to more usage, and more confusion. After listening to a lot of user feedback and questions, I redesigned the site to make it easier to use. In the end, Witty Profile's bounce rate went from 45.0% to 24.9%, pages per visit went from 6.7 to 10.6, average time on site went from 7m:42s to 12m:25s and daily page views went from 30,000 to 100,000.
Nov 2 2008


Print Your Own Business Cards
AtomicBusinessCards.com lets you create and print your own business cards for free. Simply enter your contact information, upload a logo, and get a printable PDF of your custom business cards.
Jul 30 2008


WittyProfiles.com Evolves
I spent the last couple of months rewriting WittyProfiles.com from scratch. Witty Profiles is a site I started in 2003 that now contains a library of nearly 250,000 short text messages for people to copy and paste into their profiles on social networks. Over the years I've collected a lot of user feedback and decided now was the time to implement the most requested features. Included in this release: rich text editing of quotes and profiles, elimination of quote moderation, quote voting, enhanced user profiles, and improved search.
Jun 30 2008


Flickr RSS Feed Generator
Mac OS X has a screen saver that takes an RSS feed of images as a data source. This Flickr RSS Feed Generator uses the Flickr API to retrieve images determined by parameters you specify and returns an RSS feed, whose URL you can paste into the screensaver options screen in OS X.
Feb 19 2008


New Buddy Icon Maker at FranksIcons.com
Frank's Icons released an updated buddy icon and avatar maker. New features include: icons with up to 6 frames of animation using up to 6 different images with better fonts, font sizes and font colors. Make a new buddy icon now!
Jan 5 2008


ColorHunter.com Now Accepts Image Uploads
Are you a designer struggling to find just the right color scheme? Struggle no more. ColorHunter.com now lets you get color palettes from uploaded images. Simply upload your design in progress (in jpg, gif or png format) and get two color schemes generated from the image. Try it out!
Oct 6 2007


Favicon Editor is Better Than Ever
The DeGraeve.com Favicon Editor has been redesigned for better usability. You can now drag your cursor around to paint your favicon instead of designing it by clicking one pixel at a time. You can now create favicons from uploaded images of any size and type. The favicon editor has more colors to choose from and now keeps track of what colors you've used. Try it out!
Aug 18 2007


Color Hunter
ColorHunter.com is for people who want to find color palettes created from images. The color palettes are created on the fly from flickr images that match your search terms. Check out the latest nature color palettes.
Jun 4 2007


Facts
Looking for something to talk about during an awkward moment? Read up on the latest interesting information and trivia in DeGraeve.com's new Facts section.
Mar 31 2007


DeGraeve.com Powers Facebook
Well, sort of. I noticed a huge surge in requests recently for my color palette generator web service and did some investigating which eventually led to Justin Ormont's Facebook Auto-Colorizer which automatically colorizes Facebook profiles based on the user's photo. Pretty cool usage.
Feb 28 2007


256pixels.com Improvements
256pixels.com is web site that holds a daily favicon design challenge. Instead of creating a favicon from scratch every time, you can now upload an image to get you started on your favicon design.
Jan 5 2007


New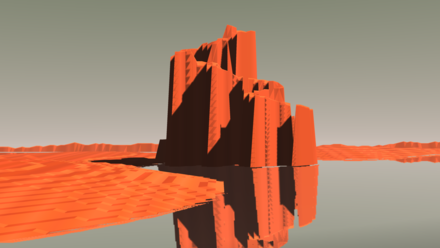 Landscape Art Generated by a Computer
About
Web apps that solve problems.
Spin-Off Sites
Sometimes my web apps grow up and move into their own URLs.