Yoda Cookies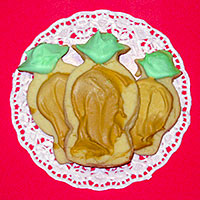 Ingredients
1/3 cup margarine or butter
1/3 cup shortening
3/4 cup sugar
1 teaspoon baking powder
1 dash salt
1 egg
1 tablespoon milk
1 teaspoon vanilla
2 cups all-purpose flour
Directions
Beat margarine or butter and shortening with an electric mixer on medium to high speed for 30 seconds. Add sugar, baking powder, and salt. Beat till combined. Beat in egg, milk, and vanilla till combined.
Beat in as much of the flour as you can with the mixer. Stir in any remaining flour with a wooden spoon. Divide dough in half. Cover; chill for 3 hours.
Roll one portion of the dough at a time to 1/8-inch thickness on a lightly floured surface. Cut into Yoda shapes with cookie cutters. Place Yodas on an ungreased cookie sheet.
Bake in a 375 degree oven for 6 to 8 minutes or until Yoda edges are firm and his bottoms are very lightly browned. Cool Yodas on a rack. Makes 36-48 Yodas.
Yoda Cookie Icing:
Ingredients:
3 tablespoons meringue powder
4 cups confectioner's sugar
6 tablespoons warm water
food coloring
Directions
In a mixing bowl, mix sugar and meringue powder, slowly add water while mixing at a medium to high speed. Beat until peaks form (about 8-10 minutes). Add flavor and food coloring if desired. NOTE: Icing dries quickly.
Divide into two bowls and add food colorings to desired intensity. Apply icing with a small spatula.
Make a pale green icing for Yoda's head and a tan icing for Yoda's robe.