Mastermind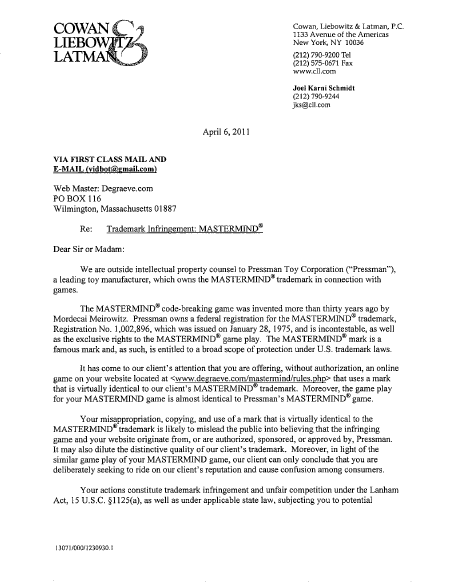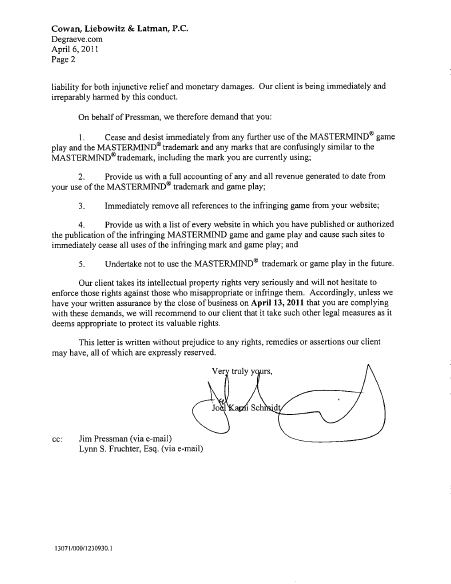 April 6, 2011
Re: Trademark Infringement: MASTERMIND®
Dear Sir or Madam:
We are outside intellectual property counsel to Pressman Toy Corporation ("Pressman"), a leading toy manufacturer, which owns the MASTERMIND® trademark in connection with games.
The MASTERMIND® code-breaking game was invented more than thirty years ago by Mordecai Meirowitz. Pressman owns a federal registration for the MASTERMIND® trademark, Registration No. 1,002,896, which was issued on January 28 1975, and is incontestable, as well as the exclusive rights to the MASTERMIND® game play. The MASTERMIND® mark is a famous mark and, as such, is entitled to a broad scope of protection under U.S. trademark laws.
It has come to our client's attention that you are offering, without authorization, an online game on your website located at <www.degraeve.com/mastermind/rules.php> that uses a mark that is virtually identical to our client's MASTERMIND® trademark. Moreover, the game play for your MASTERMIND game is almost identical to Pressman's MASTERMIND® game.
Your misappropriation, copying, and use of a mark that is virtually identical to the MASTERMIND® trademark is likely to mislead the public into believing that the infringing game and your website originate from, or are authorized, sponsored, or approved by, Pressman. It may also dilute the distinctive quality of our client's trademark. Moreover, in light of the similar game play of your MASTERMIND game, our client can only conclude that you are deliberately seeking to ride on our client's reputation and cause confusion among consumers.
Your actions constitute trademark infringement and unfair competition under the Lanham Act, 15 U.S.C. §1125(a), as well as under applicable state law, subjecting you to potential liability for both injunctive relief and monetary damages. Our client is being immediately and irreparably harmed by this conduct.
On behalf of Pressman, we therefore demand that you:
Cease and desist immediately from any further use of the MASTERMIND® game play and the MASTERMIND® trademark and any marks that are confusingly similar to the MASTERMIND® trademark, including the mark you are currently using;
Provide us with a full accounting of any and all revenue generated to date from your use of the MASTERMIND® trademark and game play;
Immediately remove all references to the infringing game from your website;
Provide us with a list of every website in which you have published or authorized the publication of the infringing MASTERMIND game and game play and cause such sites to immediately cease all uses of the infringing mark and game play; and
Undertake not to use the MASTERMIND® trademark or game play in the future.
Our client takes its intellectual property rights very seriously and will not hesitate to enforce those rights against those who misappropriate or infringe them. Accordingly, unless we have your written assurance by the close of business on April 13, 2011 that you are complying with these demands, we will recommend to our client that it take such other legal measures as it deems appropriate to protect its valuable rights.
This letter is written without prejudice to any rights, remedies or assertions our client may have, all of which are expressly reserved.
Very truly yours,